Why you should outsource your laundry!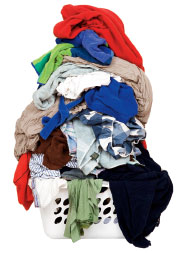 In today's busy world, operating a Spa, Hotel, Restaurant, Club, Bed & Breakfast or Healthcare facility has its own challenges. Staffing issues and utility costs are only a couple of the many complex and time consuming managerial decisions that must be dealt with on a daily basis. Processing your own laundry adds another huge and worrisome component to your daily schedule. Your time is better spent on your core business.
Wash Around the Clock Commercial Linen & Laundry Service can provide you with all of your restaurant linens, neatly pressed sheets and fluffy towels for your hotel and clean, bright towels, sheets and robes for your spa at a cost that is not any more than you spend processing your own laundry, without the hassles and headaches.
Unstable energy costs, rising fuel costs and labor issues are all areas that directly affect the cost effectiveness of operating your own laundry. By outsourcing your laundry, you can count on a guaranteed stable price as well as eliminating the uncertainties and worries of operating your own laundry on a daily basis.
Contact Us today to get a free evaluation on the benefits of outsourcing your laundry. We are the Panhandle's experts in all things laundry. Join us today!
Locations
Special Offers


Click for More Info


Click for More Info