SELF SERVICE Laundry
24 Hour Convenience – Just for you!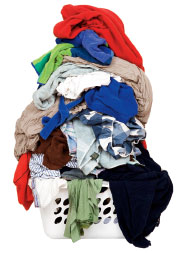 At Wash Around the Clock 24 Hour LaundryMats, we understand that doing laundry is never on the top of your "to-do" list. We want you to know that our mission is to make doing your duds the very best experience possible! With State-of the-Art Dexter washers and dryers available in every size you could possibly need, you are sure to find exactly what you need to get in and out fast…with the best wash possible! Our friendly, helpful "laundry experts" are available every day to ensure your visit is a great one. Attended hours vary by location (click here), so if you want to extra touch of our staff, please check the hours before you arrive. We also pride ourselves on clean! We know that perfection is not easy to attain, but we are constantly trying to stay on top of the messes that occur daily while doing laundry. Should you need anything addressed while you are in one of our stores, please let our staff know and we will be happy to help! We have also added a few comforts designed to make your experience as good as it can be…
Each of our stores feature:
Quality Dexter Washers available from 20lb (about 2 loads) up to our Giant 80lb (8 loads) Loaders. 30lb and 80lb Dexter dryers that are Hot and Gentle… to get you out quickly (not that you'll want to)
Our amazing WashCard System… get every 13th wash FREE and other great features you won't get with coins! For example, do your laundry with Credit Cards, and get a $2 bonus when you load a $20 Bill!
24 Hour Convenience… any time, day or night, 365 days per year! That's convenient!
Comfy AC
Snack and Drink Vending
Large Flat Screen TV's
Clean Facilities
(it's worth mentioning again)
And the Friendliest Staff in Florida!
Or Try Our Wash, Dry & Fold Service
Are you too busy for laundry? The sorting, loading, waiting and worst of all folding . . . We Understand! Our awesome drop-off service is available during attended hours (click here) at each location. Just drop it off and leave the rest to us! You'll never do laundry again! Stop by and give us a try!
Locations
Special Offers


Click for More Info


Click for More Info


Click for More Info